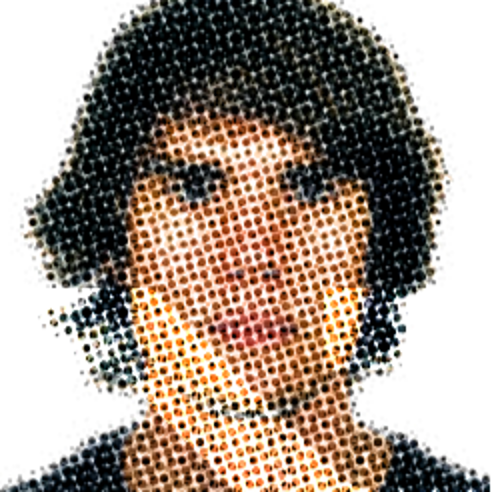 Soy ingenierio en informática, autónomo, especialista en visión artificial y tratamiento del lenguaje natural.
Mi madre pintora y mi abuela profesora de matemáticas, empece de niño a dibujar y a soñar de mundos programados y virtuales. Aprendí los lenguajes QBasic, Pascal, C, Assembler. En la mesa de nuestra pequeña cocina leyendo, manchando mis libros y mis manos, rascando la pintura fresca -- no pasa nada --, esperando que acabe de compilar mí máquina.
Está pasión, que nací muy temprano y que me repinto en memoria como un cuadro de Rembrandt, sigue conmoviéndome hoy como ayer. Después de unos largos viajes por Berlín, Alemania, y New York, Estados Unidos, dónde he podido admirar y descubrir mucho de lo que se ha hecho en la historia del arte y que dirección está cogiendo para el futuro, he decidido venir instalarme a Barcelona, con el objectivo de expesar y investigar el fuerte presentimiento que la programación es un medio artistico a parte entera.
En octubre 2014,  hemos creado juntos el colectivo hoy nombrado BcnProgLab, un espacio de intercambio libre, investigando el uso de la programación en el contexto artístico. Creamos software. Creamos poesía en este mundo.
Born in La Rochelle, France, Alexandre Dupuis holds a M.Sc. in computer vision, natural language processing and software engineering from the University of Bordeaux, France.
Grown in a family of painters, he has soon been attracted to the various artistic disciplines of painting, drawing and music, which have been a continuous practice since his early age. His grandmother a mathematics professor, he also developed a passion for programming and extensive capabilities and knowledge of computer culture.
He has been living abroad for the last ten years, in Dublin, Berlin and New York, where he could discover and apprise much of what has been done throughout the history of art and the direction that it is heading towards for the future.
Since 2013, he is now based in Barcelona, where he came with the strong will to express and investigate programming as an artistic medium.
His working process involves two main components, which are on the one side the creation of a blackbox programme that processes and transforms images, movement or any other parameter into visual output, and on the other side the interpretation, which actually means playing the instrument: that is, establishing a conversation with the outside world through the artist and its sensibility.
In October 2014, he has created the collective called today BCNProgLab, a space for free exchange, investigating the use of programming in an artistic context, confronting it to the other artistic disciplines. Some of the latest works produced include the interactive installation Fenix, collaborations with musicians Marasma Zibra and Entre Orillas with visual creations based on the custom programme The Dots, and a dialogue with dance with the project I promise I won't.
He has worked in collaboration with the art space NauArt in Poblenou, Barcelona and the electronic festivals Brunch Electronik, and the pioneer researcher in electronic litterature Maria Mencía  on the e-poem Winnipeg.
contact@alexandre-dupuis.com
http://www.bcnproglab.es